What is a Lightning address?
A Lightning address is similar to an email address, but instead of sending messages, you can use a Lightning address to send and receive Lightning payments.
To send and receive Bitcoin payments via the Lightning network, a Lightning Invoice is usually required. The recipient of a payment issues such a Lightning Invoice and specifies the amount and the intended use.
This procedure is not practical if the exact amount is unknown and a Lightning payment is to be made without specifying an amount in advance. In this case, it is not practical to create a Lightning invoice in advance and a Lightning address is more suitable.
This is because a Lightning payment can simply be sent to a Lightning address without prior contact. This is very suitable for receiving donations, for example, but also for forwarding payments, as used by Coinsnap.
Every Bitcoin payment that an end customer makes via Bitcoin or Lightning can be sent to the Lightning wallet of the payee. The payee does not have to do anything other than store their Lightning address with Coinsnap.
To obtain such a Lightning address, you need a Lightning wallet that provides such a Lightning address. The article How do I get a Lightning wallet with a Lightning address describes how to create your own Lightning wallet with a Lightning address.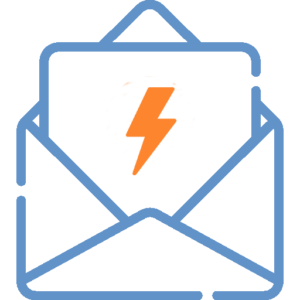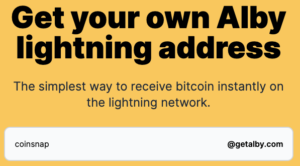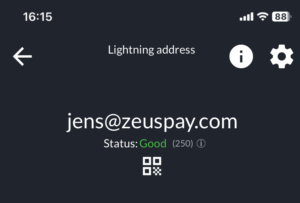 In the Zeus Lightning Wallet, click on the Zeus logo at the top left to access the settings. Here you will find the menu item Lightning address and you can specify your desired name for the Zeus Lightning address. The Lightning address is made up of your desired name and @zeuspay.com.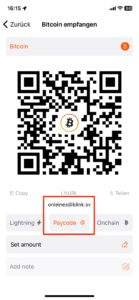 If you are using the Blink Lightning Wallet, you will find the Receive menu item on the start page. Click on it and you will see a QR code and the option to create a Lightning invoice. But we want to find out the Lightning address and click on Paycode and get our Lightning address, which ends with @blink.sv.
Wallet of Satoshi Lightning Address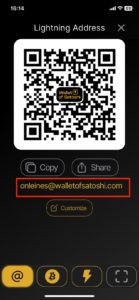 If you have a Wallet of Satoshi wallet, click on Receive. A new window will open with the heading Lightning address. In addition to your Lightning address as a QR code, you will also find the Lightning address, which looks like an e-mail address. The Lightning address is made up of your Wallet of Satoshi username followed by @walletofsatoshi.com.