You want your customers to pay you on the Internet with Bitcoin and Lightning?
Coinsnap offers you the ability to quickly and easily accept Bitcoin and Lightning payments that are credited directly to your own Lightning wallet via your Lightning address.
Simply register with Coinsnap, enter your own Lightning address and your customers can pay you with Bitcoin and Lightning.
Accept Bitcoin and Lightning payments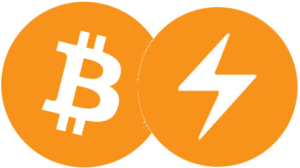 With Coinsnap, your customers can pay you with both Bitcoin and Lightning.
Lightning is a Bitcoin payment over the Lightning network. A Bitcoin payment via Lightning offers significant advantages:
Lightning payments are executed immediately.
Lightning payments are credited directly to the recipient.
Lightning payments are inexpensive.
Lightning payments are guaranteed. No chargeback risk for the merchant.
Lightning payments can be used worldwide.
Lightning payments are perfect for micropayments.
Lightning Wallet with a Lightning address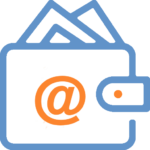 All you need is a Lightning Wallet with a Lightning address. Here you can find an overview of the matching Lightning Wallets
Credit in Bitcoin Lightning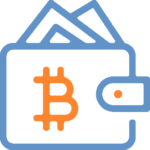 Accept Bitcoin and Lightning payments in your online store without running your own technical infrastructure. You do not need your own server, nor do you need to run your own Lightning Node.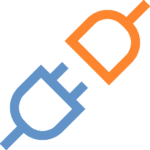 Coinsnap provides a variety of plugins, addons and modules that can be used to quickly and easily integrate the Bitcoin and Lightning payment method into an existing store system.
Coinsnap and its partners are constantly developing more plugins and if there is no solution for your store system yet, you can develop a connection via the API interface.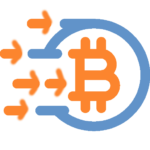 Coinsnap does not own your Bitcoin. Customers' Bitcoin and Lightning payments are forwarded directly to the merchant's Lightning address. As soon as the end customer has paid, you can immediately dispose of the Bitcoin credit. You can transfer it to your own Bitcoin wallet, pay your suppliers with Bitcoin, or exchange it for your own currency at a Bitcoin broker or exchange of your choice and withdraw it to your bank account.
Simple and fast registration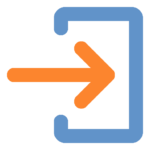 Signing up with Coinsnap is quick and easy for a merchant. When registering, you enter your email address and your Lightning address, to which the Bitcoin and Lightning sales should be paid out. Further information is voluntary and not required.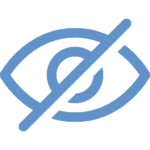 We do not collect personal data.
For the registration you only need an e-mail address, which we will also use to inform you when we have received a payment.
No other personal information is required as long as you request a withdrawal to a Lightning address or Bitcoin address.
If you wish to withdraw your Bitcoin funds into a fiat currency to your bank account, additional information may be required. Please contact the respective provider to find out which information has to be provided.
Customers pay by Bitcoin and Lightning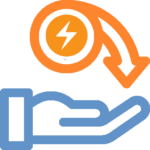 Your end customers can pay with bitcoin via Coinsnap using the blockchain and Lightning network. The forwarding of these bitcoin transactions is done via Lightning directly to the merchant's Lightning Wallet.
Thus, the advantages of Lightning can also be implemented for fast and direct forwarding to the merchant's Lightning Wallet.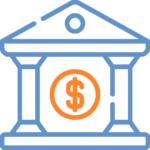 Do you want to offer your customers the possibility to pay at your site with Bitcoin and Lightning, but prefer a payout in your currency to your bank account?
In the near future, Coinsnap will enable payouts to its own bank account via external bitcoin brokers and bitcoin exchanges. Find out more at: "How is a payout to a bank account made?"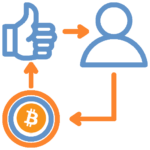 You want to recommend Coinsnap or offer it to your customers? You are a developer and want to develop your own plugin that allows store systems to process bitcoin payments via Coinsnap?
Then the Coinsnap Affiliate Program offers you the opportunity to receive remuneration in Bitcoin.
We pay 25% of the Coinsnap fee as commission for each merchant successfully referred by you and using Coinsnap. More about the Coinsnap Affiliate program
Sign up now and accept Bitcoin and Lightning payments on your website or online store.