In this article, we'll guide you through the process of registering and setting up an account on Coinsnap, linking your website to it, and navigating to find pertinent details in the Coinsnap backend.
At Coinsnap, you can sign in using your email address and password, similar to many other websites. Your password should be a minimum of 8 characters, include at least one numeral, and have a combination of both uppercase and lowercase letters.
If you received a Coinsnap discount code, you can enter it here.
Once you've registered using your email, you'll receive a confirmation email. You need to click on it to verify.
After verifying through the email, log in with your details, and you'll then be directed to the merchant backend app.
Once you register with Coinsnap, you'll gain access to tools that enable you to establish a website where payments can be made using Bitcoin and Lightning.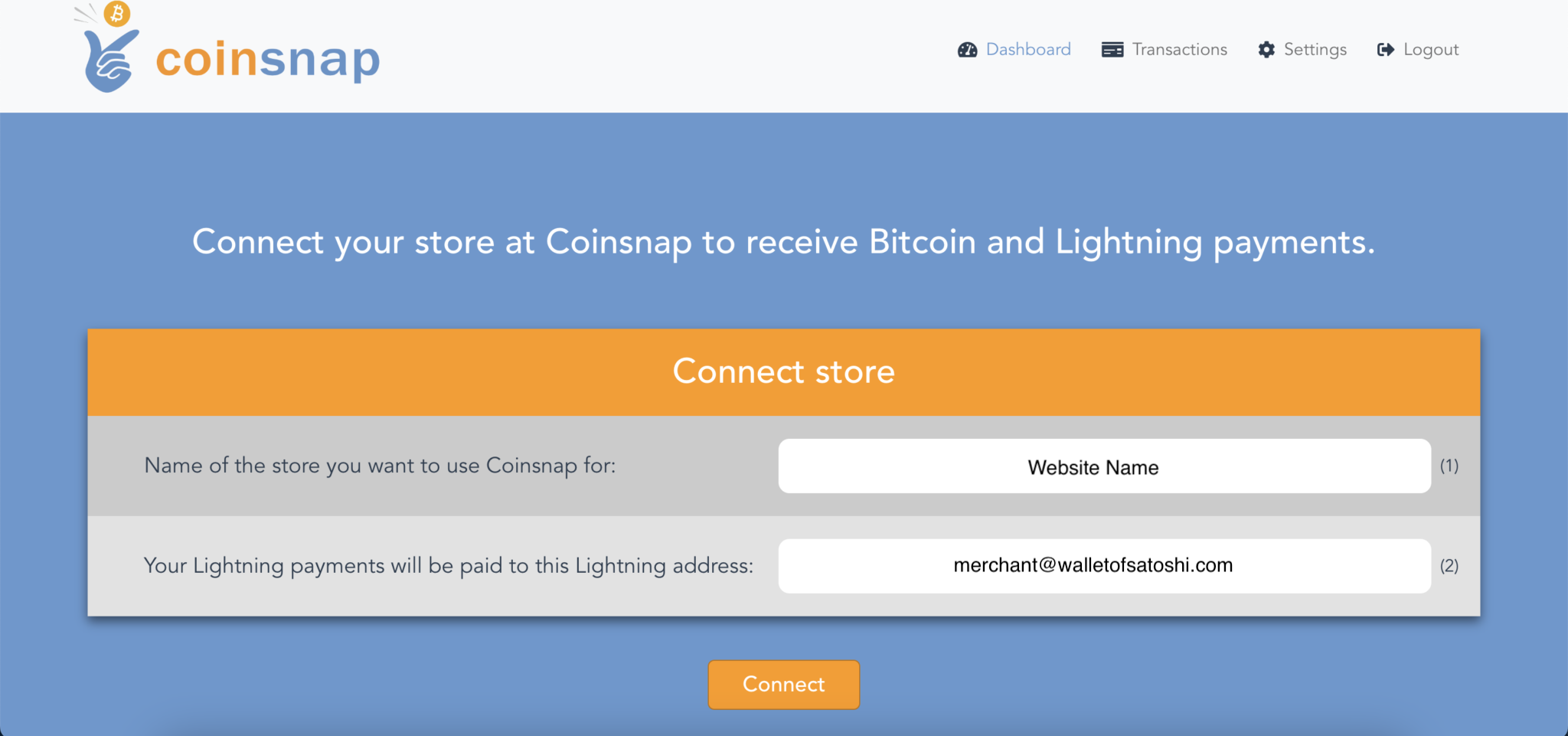 Details for each input field are provided here:
(1) Name of your Website
Start by inputting the name of your shop. This will be the name shown to your clientele on the payment page.
(2) Lightning Address
Next, input your Lightning address, which resembles an email address. A Lightning address looks like an email address, but instead of messages, you can use it to send and receive Bitcoin and Lightning payments.
Your customers' Bitcoin and Lightning payments will be forwarded to this Lightning address and credited to your Lightning wallet. If you don't have a Lightning address yet, choose a Lightning wallet that provides you with a Lightning address.
With the provider Alby you get a Lightning address with a Lightning wallet. To get an Alby Lightning Wallet, go to the website https://getalby.com/lightning-address
There you enter your desired lightning address. The Lightning address is composed of your chosen username before the @ sign, followed by getalby.com.
If your desired Lightning address is still available, you will be prompted to create an Alby account.
You will need your email address to do this.
After that, click Sign Up and a code will be sent to your email address, which you enter on the Alby website to confirm your email address.
Also see our blog post: Alby Lightning Wallet with Lightning address.
Every time a customer pays you with bitcoin and Lightning, the amount is forwarded to this Alby Lightning address and credited there.
At the same time, you will receive an email notification from Alby each time the payment is received.
If you want to learn more about the Alby Lightning Wallet and how you can use it, we recommend the article at Coincharge titled: "Alby Lightning Wallet setup and use".
You have now successfully created a Coinsnap account and fulfilled all the requirements for using Coinsnap by entering a Lightning address.
In the Coinsnap backend you will find further settings for Coinsnap and all information about transactions and settlements.
A detailed description of the Coinsnap backend can be found here.