Coinsnap is a Lightning Payment Provider and offers Bitcoin and Lightning payment processing for retail stores and online stores.
In 2015, Coinsnap began processing bitcoin payments for online merchants and was one of the first bitcoin payment providers in the world with this bitcoin merchant service.
They were very far ahead with the idea, and as it turned out, unfortunately, too far ahead, because the market was not yet ready.
Bitcoin was still an investment and speculative asset at that point and was just beginning to evolve into a store of value.
The time was not yet ripe for payment transactions and thus as a means of payment.
With the advent of bitcoin payment via the Lightning Network (Lightning for short), bitcoin regained prominence as a means of payment and the idea matured to reactivate Coinsnap.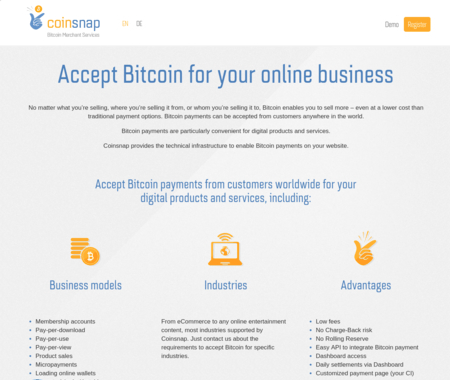 In September 2023, the new Coinsnap was released. Now focusing on processing bitcoin payments over the Lightning network and thus as a Lightning payment provider.
As a merchant, all you need is a Lightning wallet with a Lightning address to receive Bitcoin and Lightning payments from your customers.
Incoming Bitcoin or Lightning payments are forwarded by Coinsnap directly to the merchant's Lightning wallet, so the merchant does not need its own technical infrastructure.
Coinsnap does not hold any customer funds, as all payments are routed directly to the merchants' Lightning Wallets, just like a Lightning Routing Node.
The end customer pays with Bitcoin and Lightning and the amount is forwarded as Lightning credit to the merchant's Lightning wallet.
For merchants who wish to be credited to their own Bitcoin wallet or in Euros to their own bank account, this is possible via external partners to which Coinsnap provides a technical connection.
For easy technical integration of Bitcoin and Lightning payments into internet stores, Coinsnap offers payment modules. With the help of these payment modules, a connection is established between the internet store and Coinsnap to enable the processing of bitcoin payments.
Further Coinsnap payment modules are being developed for the various internet shop systems. If the desired payment module is not yet available for the Internet store software used, an individual connection can be developed via the API or an individual solution can be created.